Photo by: EPA; Lucy Nicholson / Reuters / Landov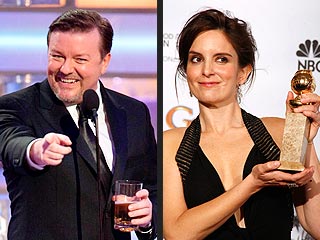 Known for its informal, freewheeling style, the Golden Globes did not disappoint on Sunday, as several stars delivered clever, offbeat speeches onstage.
British comedian Ricky Gervais was the first to break up the audience, which he attempted to silence by saying, "Shhhush! How rude you lot are, just because you are film stars."
He then went on to make fun of his lack of a Globe nomination – and his attempt to get one. "That's the last time I have sex with 200 middle-age journalists," he said of the Hollywood Foreign Press, who give out the Globes. "Europeans with wispy beards. And the men were worse."
About best supporting actress winner
Kate Winslet
, Gervais quipped, "What did I tell you, Winslet – do a Holocaust movie, win an award." (The plotline of Winslet's guest appearance on Gervais's HBO series
Extras
involved the Holocaust, an element that also figured heavily into her Globe-winning performance in
The Reader
.)
Gervais added: "That's the trouble with Holocaust films: There's no gag reel on the DVD."
Later,
30 Rock
star Tracy Morgan got the crowd to roar when the NBC show was named best comedy series. "Tina Fey and I had an agreement," he said. "If Barack Obama won, I would speak for the show from now on. Welcome to post-racial America! I am the face of post-racial America! Deal with it,
Cate Blanchett
!"
Soon afterward, Fey had her own turn to speak, as the best leading actress in a comedy series. "I've always loved the Hollywood Foreign Press," she said of the group that hands out the trophies. "As a kid, I had all the Hollywood Foreign Press action figures."
Fey – whose career year included her spot-on impersonation of former GOP vice-presidential candidate Sarah Palin on
Saturday Night Live
– went on to say, "If you ever start to feel too good about yourself, they have this thing called the Internet. You can find a lot of people who don't like you." She then listed several screen names of her online critics and told them each to "suck it."
RELATED GALLERY:
•
Oh No They Didn't! The Night's Craziest Quotes
Get PEOPLE Everywhere
Advertisement