Oscars Promise Surprises, Brad Pitt – and Maybe Beyoncé
Originally posted Sunday February 22, 2009 01:00 PM EST
Photo by: PA Photos / Landov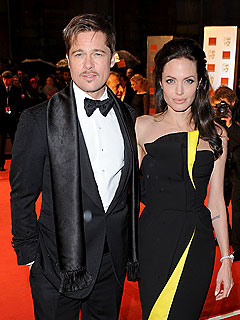 Producers are promising plenty of shakeups with this year's Academy Awards. They haven't announced the presenters in advance. And they've enlisted
Hugh Jackman
, known for his singing and dancing abilities, to host in lieu of a traditional comedian.
But the question remains: Will it be enough to net a major audience? With viewership declining, the Academy sure hopes so.
One thing is certain: If this year's
nominees
– including
Brad Pitt
,
Angelina Jolie
and
Anne Hathaway
– point to anything, there will plenty of A-listers walking the red carpet – not to mention some nail-biting races.
The Big Races
This year's supporting actor categories offer real suspense. Will
Heath Ledger
pick up a posthumous Oscar for his memorable turn as the psychotic Joker in
The Dark Knight
? He's won plenty of trophies already this award season, but the late Ledger is competing against
Milk
's Josh Brolin, among other industry favorites.
Similarly, while
oddsmakers
favor
Penélope Cruz
in the Best Supporting Actress race, many in the industry have praised
Viola Davis
's heartrending performance in
Doubt
.
And Meryl Streep offers stiff competition for another hopeful,
Kate Winslet
, in the Best Actress category. Streep has already picked up a surprise Screen Actors Guild award for her role in the film.
Scaled Down Parties
While producers have remained tight-lipped about what to expect on the telecast, it's expected Jackman will be singing and dancing – as well as telling jokes.
According to
Entertainment Weekly
,
Beyoncé
will perform alongside PEOPLE's Sexiest Man Alive, as will
Zac Efron
and
Vanessa Hudgens
.
In another change this year, organizers say they are
scaling back
some of the more lavish touches at post-Oscar parties, foregoing major floral arrangements, for instance, for giant bonsai trees.
The 81st Academy Awards will be broadcast live on Sunday, Feb. 22, from Hollywood's Kodak Theatre at 8 p.m. ET on ABC.
Get PEOPLE Everywhere
Advertisement