Angelina Jolie on Oscar Night: 'I'm Rooting for Brad'
Originally posted Tuesday February 03, 2009 04:30 PM EST
Photo by: Alberto E. Rodriguez / Getty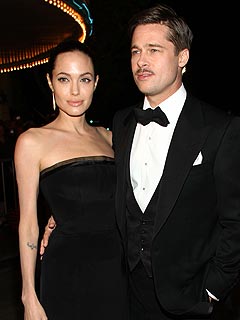 Angelina Jolie
is not hiding her allegiances when it comes to Oscar night.
"I'm rooting for Brad," the actress, 33, says of her Best Actor-nominated partner,
Brad Pitt,
45.
Nominated herself as Best Actress for her film
Changeling,
Jolie tells ABC's
Nightline
in an interview airing Tuesday that she's not much of a moviegoer – unless Pitt is on the screen.
"No, I just, I don't really like to watch movies," she says, adding, "I love to watch Brad's movies."
Noting that she'll soon start to "step away from acting" to focus on her family, the
mother of six
says her priorities have clearly shifted over the years.
"I'd say kids first, kids, woman to Brad and then my work internationally and being a kind of ... trying to educate myself and trying to learn about the world and ... trying to do some good things while I'm alive," she tells
Nightline.
As for acting, she notes, "so what is that, fourth?"
RELATED GALLERIES:
•
Brad & Angelina welcome twins Knox & Viv!
•
2005: See photos from Brad & Angelina's first vacation together
Get PEOPLE Everywhere
Advertisement