Mickey Rourke Expects to Applaud Sean Penn Oscar Night
Originally posted Tuesday February 03, 2009 11:20 AM EST
Photo by: London Entertainment / Splash News Online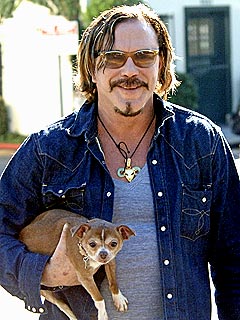 Mickey Rourke's dogs may be left in the cold come Oscar night.
Rourke
thanked "all his dogs"
when he won the Golden Globe Award for best actor last month, saying, "Sometimes when a man's alone, that's all you got is your dog. And they've meant the world to me."
But on Feb. 22, the comeback king doesn't anticipate another shout-out to his beloved pooches.
"I'll probably be up there clapping for Sean Penn," Rourke told PEOPLE Monday at the 81st annual Oscar Nominees Luncheon, in Beverly Hills. "I don't think that far ahead."
Penn, who stars in
Milk
, is
The Wrestler
actor's main competition for the Best Actor Academy Award.
A spokesperson for People for the Ethical Treatment of Animals says Rourke has at least three dogs: Jaws, Mickey and Loki.
Marisa Tomei, his
Wrestler
costar, added, "I see him out at all the events, [and] hang out, pet his dog."
Way to share the love, Mickey!
You can share some love too – comment on Rourke and his dogs at People Pets
Get PEOPLE Everywhere
Advertisement