Winners & Nominees
Awards Show Countdown
December
January
February
Latest Headlines
Credit:

Courtesy of Pernod Richard; Summit Entertainment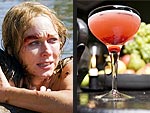 Originally posted 01/26/2013 12:00PM
Naomi Watts doesn't need to be the only one celebrating her SAG Award nomination on Sunday.

Even if you're only catching the big night from the small screen, honor the actress and her film The Impossible with a specialty cocktail created by mixologists at Jacob's Creek, the Australian wine line for which Watts serves as an ambassador – and is "not a bad looking face for the brand," chief winemaker Bernard Hickin adds.

"This delicately bubbly and bittersweet cocktail is based on the inspiring true story of one family's struggle to survive and locate each other after the catastrophic Tsunami in Southeast Asia," Andrew White, mixologist at the Brooklyneer in N.Y.C., tells PEOPLE.
Credit: John Sciulli/Getty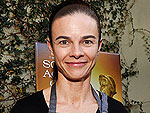 Originally posted 01/25/2013 04:35PM
How do you satisfy Hollywood's biggest stars – people with discerning palates, often strict diets and tight dresses?

That is the task before Los Angeles-based celebrity chef Suzanne Goin, who will cook up a seasonal, tasty meal for the A-listers attending Sunday's Screen Actors Guild Awards in Los Angeles.

"The challenge in this case is having that one plate that has three different dishes on it that need to all really work together," says Goin, who previewed the SAG Awards menu last week at her West Hollywood restaurant Lucques. "How do I do that? I use the produce and vegetables that are the most beautiful."
Credit: Jason LaVeris/FilmMagic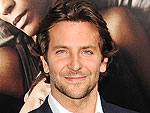 Originally posted 01/16/2013 08:15AM
Silver Linings Playbook's Oscar- and SAG-nominated Bradley Cooper has another job before him: He'll be a presenter at Jan. 27's 19th Annual Screen Actors Guild Awards, it was announced first thing Wednesday morning.

The 2011 Sexiest Man Alive will be in very good company. Other presenters include Justin Timberlake, Viola Davis, Sigourney Weaver, Les Miserablés nominees Anne Hathaway and Hugh Jackman, and Cooper's Silver Linings costar, nominee Jennifer Lawrence.
Credit: Getty; Millennium Entertainment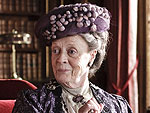 Originally posted 12/12/2012 09:30AM
The 2013 Award Season officially kicked off Wednesday morning with the announcement of the 19th annual Screen Actors Guild Awards nominations – and double nominees Nicole Kidman (for HBO's Hemingway and Gellhorn and the movie The Paperboy) and Maggie Smith (for PBS's Downton Abbey and the film The Best Exotic Marigold Hotel), as well as Kevin Costner, Julianne Moore, Jim Parsons, Alec Baldwin, Betty White, Tina Fey, Javier Bardem and Anne Hathaway all have reasons to be smiling.

In the theatrical motion picture division, the SAG/AFTRA nominated the following for outstanding performance for a cast (SAG's version of the best picture prize):
• Argo
• The Best Exotic Marigold Hotel
• Les Misérables
• Lincoln
• Silver Linings Playbook
Credit: Francis Specker/Landov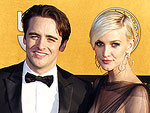 Originally posted 01/30/2012 04:45PM
Although they enjoyed Sunday's feast at the Screen Actors Guild Awards, Vincent Piazza is just as satisfied by quesadillas at home with Ashlee Simpson.

"We've been cooking a lot. We have dinner nights and we hang out," the Boardwalk Empire star, 35, tells PEOPLE.

"Just by birthright, I love pastas, so I cook a lot of that – lasagnas and meatballs. But she's into this whole Tex-Mex thing, which I've been catching on to. Guacamole and sour cream, quesadillas and tacos – we're experimenting."
Credit: Kevan Brooks/AdMedia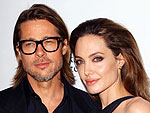 Originally posted 01/30/2012 02:25PM
Are Brad Pitt and Angelina Jolie headed down the altar sometime soon?

That's what could be expected, given Pitt's recent comments about the pressure to propose – but according to Jolie, 36, her longtime beau's comments were a bit overblown.

"I think anything said tends to be blown out of proportion," Jolie told PEOPLE on Sunday's red carpet at the Screen Actors Guild Awards in L.A., when asked about "a lot of ring-talk lately."
Credit: GSI Media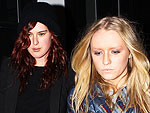 Originally posted 01/30/2012 12:30PM
Rumer Willis isn't letting family drama slow her down.

Following Demi Moore's hospitalization last week and decision to seek professional treatment for exhaustion, her daughter – and frequent party companion – was in full social mode, enjoying a busy weekend out and about in Los Angeles.

On Saturday night, Willis, 23 – who was apparently on hand when Moore's friends called 911 after the actress had an apparent seizure – stepped out for dinner at Comme Ça, joined by her friend Annie Starke, Annie's mother Glenn Close and Close's husband David Shaw.
Credit: Jeff Vespa/WireImage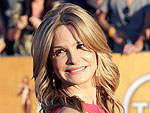 Originally posted 01/30/2012 11:20AM
Despite the many gorgeous celebrities flocking last night's Screen Actors Guild Awards red carpet, Kyra Sedgwick stood out thanks to a bold new accessory.

Clad in a fire engine red Emilio Pucci column, The Closer star (and best drama actress nominee) explained the significance of the linear design resting just north of her exposed ribcage.

"It's a family tattoo," she told E! "It's all our initials K, K, S and T."

The actress was, of course, referring to husband of 23-years, Kevin Bacon, their son Travis, 22 and daughter Sosie, 19.
Credit: Kevork Djansezian/Getty; Juan Rico/Fame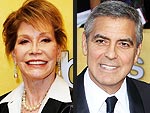 Originally posted 01/30/2012 08:10AM
George Clooney isn't shy about expressing his feelings. Just ask Mary Tyler Moore.

Asked at Sunday's Screen Actors Guild Awards, where she won the Life Achievement Award, whether she'd be mingling with any A-listers in particular – say, Mr. Clooney himself? – Moore recalled her thrilling first encounter with the best actor nominee.

"I met George Clooney in a very small elevator, and he came over and he put his arms around me," the actress, 75, told PEOPLE. "I think he said something like, 'I love you.' It was maybe two years ago. I am going to seek him out tonight."
Credit: Kevin Winter/Getty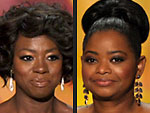 Screen Actors Guild Awards 2012
Originally posted 01/29/2012 10:50PM
"Dream big, dream fierce." The real-life ladies of The Help would have agreed with Viola Davis, it's worth it.

Accepting the trophy for female actor in a leading role for the period drama, Davis told the audience gathered at L.A.'s Shrine Exposition Center for Sunday night's Screen Actors Guild Awards: "What is there [in life] but a dream. You can't trade in your dream for another dream. I am so proud to be an actor."

It's an appropriate motto for a cast who were also recognized for their work in the film as an ensemble, the top honor of the night.
Advertisement
PLAY
Off-Duty Hollywood
00:57
Katie Holmes and Suri Take Flight in Manhattan
Plus: Kim Kardashian and Kanye West head to Broadway and more star sightings