Winners & Nominees
Awards Show Countdown
December
January
February
Latest Headlines
Originally posted 02/26/2012 11:30AM
What's an Oscar party without a special cocktail to toast the winners?

Two top drink masters have whipped up specialty drinks to clink on the big night, and they're guaranteed to fit into any movie-themed bash.

Mixologist Jim Meehan of Manhattan's secret-chic bar PDT recently concocted a punch inspired by Best Picture nominee War Horse.
Credit: Paramount; Weinstein; FOX; DreamWorks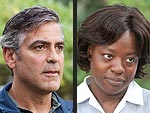 Originally posted 02/25/2012 05:45PM
Make no mistake: Oscar loves the movies.

Of the nine films in contention to be named Best Picture, the two with the most overall nominations – Hugo, with 11, and The Artist, with 10 – focus on the art form in its infancy and each is a Valentine to the medium – but will one of them snag Oscar's heart?

Having already earned Martin Scorsese a Golden Globe for his direction, Hugo sets its story in Paris, where orphan Hugo Cabret helps the real-life 1900s screen pioneer Georges Melies (played by Ben Kingsley) enjoy renewed appreciation in 1931.

With a number critics' circle awards as best picture of 2011, BAFTA's and the Producers Guild best picture of the year awards and the best musical or comedy motion picture Golden Globe, The Artist, set in 1927, examines of Hollywood's transition from silents to talkies as it affects a successful leading man (Jean Dujardin) who staunchly refuses to adapt to the new process.
Credit: RepublicWadiya/Twitpic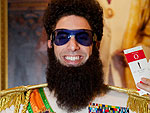 Update
Posted 02/25/2012 10:35AM
Originally posted 02/24/2012 07:00PM
Go figure: the Dictator got his way.

Sacha Baron Cohen is, in fact, welcome at the Oscars on Sunday, despite earlier word that the Academy was turning him away because of his plan to attend the ceremony in character as "Dictator" Admiral General Shabazz Aladeen from his latest film.

"VICTORY IS OURS! Today the Mighty Nation of Wadiya triumphed over the Zionist snakes of Hollywood," the "Dictator" Tweeted Friday. "Evil and all those who made Satan their protector were vanquished and driven into the Pacific Sea. What I am trying to say here is that the Academy have surrendered and sent over two tickets and a parking pass!"

The post was followed by a photo of Cohen in character, waving two tickets to the Oscars ceremony and a golden pistol.
Credit: Ralph Morse/TIME & LIFE Pictures/Getty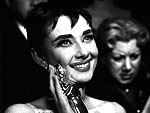 Originally posted 02/25/2012 09:30AM
She went on to be nominated four more times – but Audrey Hepburn's first Oscars was the night she brought home the gold.

The actress, nominated for her royal role in the 1953 romantic comedy Roman Holiday, was named Best Actress at the 1954 Academy Awards. Now, Life.com has a look back at that night and many other glamorous moments from Oscars' past in a new gallery.

"I want to say thank you to everybody who in these past months and years have helped, guided and given me so much," Hepburn said on stage that night while accepting her award. "I'm truly, truly grateful – and terribly happy."
Credit: Corbis, FilmMagic, Celebrity Photo, Landov, REX USA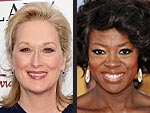 Originally posted 02/24/2012 05:00PM
This year's race for Best Actress is a nail-biter, with some of Hollywood's most accomplished stars vying for the golden statuette.

Meryl Streep, who won the Golden Globe for her spot-on performance as former British Prime Minister Margaret Thatcher in The Iron Lady, could be seen as a frontrunner. After all, with 17 previous Oscar nominations and two wins, Streep is Hollywood royalty.

But she's by no means a shoo-in. Street's pal, Viola Davis, won the Screen Actor's Guild Award for best actress for her role in the wildly popular film The Help, and will be giving Streep a run for her money.
Credit: Splash News Online; AP; Beimages; Landov; Picturegroup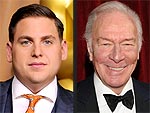 Originally posted 02/24/2012 12:40PM
Hard to believe, but with so many notable roles under their belts over the past several years, Best Supporting Actor Oscar nominees Kenneth Branagh, Nick Nolte, Christopher Plummer and Max Von Sydow have never grabbed the gold.

That is likely to change Sunday night – for one of them. Or, in an upset, possibly for the much-younger Jonah Hill.

And while the smart money is on either Oscar-less octogenarian Christopher Plummer, for his Screen Actors Guild-winning turn as a father who comes out sexually late in life in The Beginners, or Max Von Sydow, as a contemporary man who still suffers the effects of WWII in Extremely Loud and Incredibly Close, no nominee can be counted out in this race.
Credit: London Ent/Splash News Online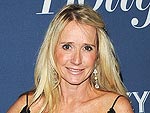 The Real Housewives of Beverly Hills
Originally posted 02/24/2012 11:05AM
Just over a month after leaving rehab, Kim Richards says she's feeling better than ever.

"It was a rough go to get here, but I feel really good," the Real Housewives of Beverly Hills star tells PEOPLE. "I love life. I'm just enjoying it so much."

Speaking at The Hollywood Reporter's Nominees Night pre-Oscar party on Thursday, Richards, 47, said it was her own motivation that prompted her to seek treatment in December, but that she also relied on the support of those around her, including her sister Kyle.
Credit: Celebrity Photo, Getty, Bauer Griffin, Landov(2)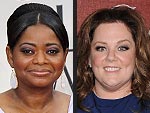 Originally posted 02/24/2012 06:30AM
This year's nominees of Best Supporting Actress couldn't be more different.

From Melissa McCarthy's hysterical gross-out part in the contemporary comedy Bridesmaids to Bérénice Bejo's romantic role in the mostly silent film The Artist, the nominees run the gamut of characters.

Also up for the Oscar are Janet McTeer in the moving period drama Albert Nobbs, and both Octavia Spencer and Jessica Chastain in the race-relations drama The Help.
Credit: Bob D'Amico/ABC, Stephane Cardinale/Corbis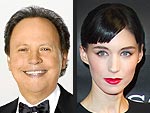 Originally posted 02/23/2012 01:15PM
Pop quiz: What annual awards show airs this Sunday night? If you're as into the Oscars as we are, you likely just yawned and said, "Easiest. Question. Ever." And you'd be right.

Now, let's try a few more challenging questions. Which of the current crop of Best Actress hopefuls honeymooned at George Clooney's Italian villa? The Help's Jessica Chastain earned a scholarship to Julliard funded by which Oscar-winning comedian? War Horse composer John Williams's son sang for which classic rock band?


Filed Under:
Oscars 2012
,
Academy Awards
,
Friends
,
Billy Crystal
,
Gary Oldman
,
George Clooney
,
Jennifer Aniston
,
Matt LeBlanc
,
Rooney Mara
,
Viola Davis
,
Woody Allen
Credit: Paramount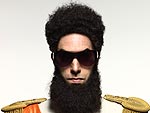 Originally posted 02/23/2012 11:30AM
It would be quite a sight – Sacha Baron Cohen arriving on the red carpet at Sunday's Academy Awards as his outlandish and cruel character from his upcoming comedy The Dictator.

Except the Academy wants nothing to do with it.

A rep for the Oscars tells the New York Post that Cohen, 40, is still invited to the show, but only if he leaves the military garb and fake beard at home.

"We have expressed that we don't feel it's appropriate to use our Oscar red carpet as a venue for a movie promotional stunt," the rep says.