Winners & Nominees
Awards Show Countdown
December
January
February
Latest Headlines
Credit:

Coutesy Kim Kardashian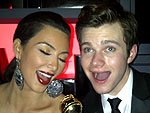 Originally posted 01/17/2011 12:35PM
Kim Kardashian has fallen in love – again.

No, it's not a hot model or a $500 pair of high heels that's caught her eye. The reality star, 30, embraced the cast of her favorite TV show, Glee, at the InStyle and Warner Brothers afterparty at the Beverly Hilton Hotel Sunday, following the Golden Globe Awards.

"I think I'm in love with @MsLeaMichele!" Kardashian Tweeted about Glee star Lea Michele. "[She is] so beautiful and so talented!"
Credit: Sipa; inset: Startraks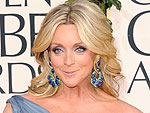 Originally posted 01/17/2011 12:20PM
Jane Krakowski's unborn child is accomplishing more in utero than most kids dream of – like meeting a certain teen pop star at Sunday's Golden Globe Awards.

"I think my baby already has a leg up on all other babies because the baby has already met Justin Bieber," the 30 Rock actress, 42, told PEOPLE.

"I couldn't believe it! I'm like, first my unborn child has already gone to the Golden Globes, and now has met Justin Bieber. Lucky little one!"
Originally posted 01/17/2011 10:55AM


What scares Jennifer Love Hewitt? The Twitter bird – and what she could do with it.

"I feel like with my mouth I would get in trouble all the time," Hewitt, 31, tells PEOPLE. So, in an improvised verbal "live Tweet" from the Golden Globe red carpet, she and boyfriend, actor and director Alex Beh, 27, described their experience, which in a haiku-like result, had them "sweaty" and "smiley."
Originally posted 01/17/2011 09:45AM


Attending the Golden Globe Awards is such a treat for a small-town girl living the quiet life as a hockey player's wife in Canada.

We're talking, of course, about Carrie Underwood, who attended the Hollywood gathering on Sunday as a best-song nominee – after several weeks of downtime in Ottawa, much of which she spent busying herself with housework, as husband Mike Fisher was traveling.

"It is hard being a hockey wife," the country star, 27, told PEOPLE. "They will go off for a few days at a time to play some road games, and I am just like sitting at home twiddling my thumbs thinking, 'What do I do?' "
Credit: STS/WENN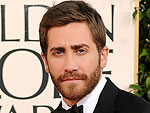 Originally posted 01/17/2011 08:45AM
Jake Gyllenhaal definitely has a thing for blondes, but there is one redhead who remains near and dear to his heart: Jenny Lewis.

You may remember Lewis, 35, as a rich girl scout in Troop Beverly Hills, as Fred Savage's young love interest in The Wizard, as part of Angelina Jolie's circle of gal pals in Foxfire, or as Gyllenhaal's girlfriend back in 2001.

The former child actress, who has become a singing indie rock favorite by fronting band Rilo Kiley and releasing two solo albums, has remained friends with the Globe nominee, even after moving on and dating other people.
Credit: Lionel Hahn/Abaca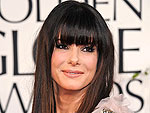 Originally posted 01/17/2011 08:00AM
There's only one man in Sandra Bullock's life right now – her son, Louis.

In an interview with Today's Al Roker, Bullock made it clear that rumors of her and newly single Ryan Reynolds being an item aren't true.

"I think there will be a collective sigh amomgst women across the United States when I say he's not my lovah," Bullock, 46, says on the red carpet before Sunday night's Golden Globes. "He's just an amazing friend for 10 years ... but I don't get his loving after dark."
Credit: Kyle Rover/Startraks (2)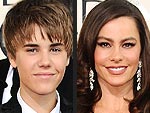 Originally posted 01/17/2011 12:00AM
Who needs to win an award to share their thoughts? Thanks to Twitter, celebs can over-share from everywhere!

Here are some of the night's best OMG and LOLs from the Golden Globes tables:

• "I don't care!!! I already have my Golden Globes!!!!!!!!hahhahha" – Sophia Vergara
Credit: Kevin Winter/Getty; Paul Drinkwater/NBC/AP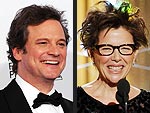 Originally posted 01/16/2011 11:10PM
A king with a stutter; a ballet dancer driven to the brink of madness; a lesbian mom; and a nebbishy television producer – those were the diverse roles that won this year's crop of stars their best actor and actress trophies at Sunday's Golden Globes.

This year, the Hollywood Foreign Press Association shared the wealth, divvying up acting and best picture awards among the many different nominees.

The Social Network was named best motion picture drama at the ceremony, and ultimately earned four awards at the show, the most of any film. The Kids Are All Right picked up best motion picture comedy, with Annette Bening named best actress in a comedy for her role as Nic, a doctor, who has children with Julianne Moore's free-spirited character.
Credit: Paul Drinkwater/NBC/AP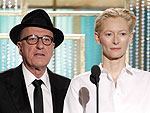 Originally posted 01/16/2011 09:30PM
Geoffrey Rush may have channeled his inner Mad Man with his dapper fedora and shorn hair at Sunday's Golden Globes – but the actor wasn't sporting the hat just to make a style statement.

Nope, the Aussie star, and Golden Globe nominee for The King's Speech, shaved his head for a new role in the play The Diary of a Madman, based on a short story by Nikolai Gogol, which already premiered in Australia, his rep tells PEOPLE.

Rush, 59, plays a civil servant who goes crazy in the dark comedy, which is set to make its U.S. premiere at New York's Brooklyn Academy of Music beginning Feb. 11.

• Reporting by ELIZABETH LEONARD
Credit: Paul Drinkwater/NBC/AP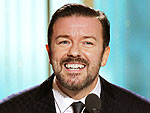 Originally posted 01/16/2011 09:05PM
Ricky Gervais said he would "notch it up" for this year's 68th Golden Globe Awards. And the British comedian took a sip of his beer and left the audience speechless right out of the gate.

No one was safe. Here are some of his most memorable zingers:

• It's gonna be a night of partying and heavy drinking … or as Charlie Sheen calls it: Breakfast.

• I haven't even seen The Tourist. Who has?

• Do you want to go see Cher? No. Why not? Because it's not 1975.