Winners & Nominees
Awards Show Countdown
December
January
February
Latest Headlines
Credit:

Michael Tran/Filmmagic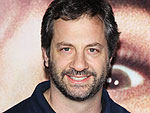 Originally posted 12/18/2011 05:30PM
After working on Bridesmaids for "half a decade," Judd Apatow had every right to be proud that the movie he produced was nominated for a Golden Globe.

But despite calling the acknowledgment a "very exciting thrill," Apatow, 44, held back when it came to boasting about the feat to his family.

"Today was my daughter Maude's 14th birthday, so I didn't tell anyone in my family about the nomination," the doting dad told PEOPLE shortly after nominations were announced Thursday. "I didn't want to distract from our morning festivities. I thought it would be rude to make it all about me."
Credit: Dave Allocca/Startraks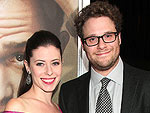 Originally posted 12/15/2011 03:00PM
It's been a banner year for Seth Rogen.

Just a few months after saying "I do" to longtime girlfriend Lauren Miller, the funnyman's latest film 50/50 got nominated for a Golden Globe on Thursday – a first for the actor, who says he's "never been in a movie" where he thought he'd be nominated for a major award.

But don't add parenthood to the list of upcoming milestones for the newlywed, 29, and his wife.

Responding with a firm "no" when asked if kids were in the cards, Rogen added with a laugh, "We have a dog. That's good for now."
Credit: Sony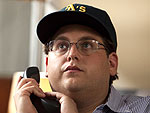 Originally posted 12/15/2011 12:30PM
Jonah Hill has double the reason to celebrate: this week he snagged two major nominations for his supporting role opposite Brad Pitt in Moneyball – one from the Screen Actors Guild and one – a Golden Globe – from the Hollywood Foreign Press Association.

And yes, this puts him squarely in the running for an Oscar nod.

Though he admits to feeling "fantastic," the comedian-turned-dramatic actor, 27, told PEOPLE from the Atlanta set of the upcoming movie Neighborhood Watch, "I have been trying not to get wrapped up in all of this, in everything."
Credit: Paul Drinkwater/NBC/AP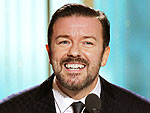 Originally posted 12/15/2011 08:45AM
Ricky Gervais, start sharpening your tongue – the Golden Globes are off and running.

Among those in the spotlight thanks to Thursday's nominations: George Clooney, Brad Pitt, Ryan Gosling, Michael Fassbender, Michelle Williams, Charlize Theron, Rooney Mara, Tilda Swinton, Jodie Foster, Kristen Wiig, Viola Davis, Meryl Streep and Glenn Close.

Also in the running in the leading categories are Modern Family, Boardwalk Empire, Game of Thrones, Downton Abbey and Homeland, among others.
Credit: Gilbert Carrasquillo/FilmMagic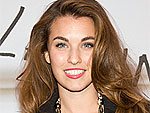 Originally posted 12/08/2011 10:10PM
'Tis the season. Award season, that is.

The Hollywood Foreign Press Association kicked the season of statuettes into gear by selecting Rainey Qualley, daughter of Andie MacDowell, as Miss Golden Globe 2012.

The aspiring actress and singer, 21, follows in the footsteps as such past selections as Melanie Griffith, Laura Dern, Rumer Willis, and last year's Miss Golden Globe, Gia Mantegna.
Credit: Paul Drinkwater/NBC/AP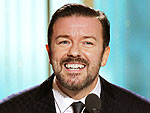 Originally posted 11/16/2011 06:00PM
The Oscars may have sought to cool the controversy over their awards show, but the Golden Globes are saying: Bring it on!

For the third year in a row, caustic funnyman Ricky Gervais will host the Globes on Jan. 15 despite – or perhaps because of – complaints that he went too far with his remarks last year.

The decision was made after the Hollywood Foreign Press Association met with a top official at NBC, which is airing the awards.

"While many welcome Gervais's return, not everyone is happy with the decision because last year his blunt one-liners targeting big-name celebrities caused anger and resentment in some quarters," says a blog post on the HFPA's own Web site.
Credit: Paul Drinkwater/NBC/AP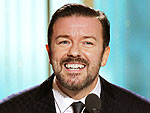 Originally posted 02/01/2011 03:50PM
Ricky Gervais riled celebrity guests at the Golden Globe Awards last month – and he's still shaking things up.

Gervais, 49, says on his Web site that the Hollywood Foreign Press Association "asked me to consider a third year."

"I don't think I should," he continues. "I don't know what I could do better. I certainly couldn't get more press for them, that's for sure. You know me. Two seasons is enough."

Which is exactly what HFPA is thinking.

"There is no truth to this rumor," Phil Berk, head of the HFPA, said in a statement to The Hollywood Reporter. "We have not asked him to come back. Nice try, Ricky."
Credit: Francis Specker/Landov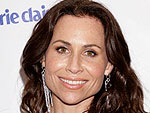 Originally posted 01/21/2011 08:20AM
Guess which star had her knickers in a knot – or, more precisely, pulled over her dress – in the bathroom of a Golden Globes party?

Minnie Driver will never tell.

The Barney's Version actress, 40, said she got up close and personal in the ladies room with a "very gorgeous, lovely, young actress coming out of the stall" next to her – who just so happened to be having a wardrobe malfunction.
Credit: Paul Drinkwater/NBC/AP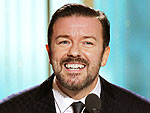 Originally posted 01/17/2011 06:30PM
To the many critics of Ricky Gervais, add his own bosses at the Golden Globe Awards.
Credit: Trae Patton/NBC/AP; Giulio Marcocchi/Sipa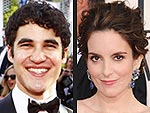 Originally posted 01/17/2011 03:40PM
Darren Criss apparently has a thing for older women.

While walking his first Golden Globes red carpet on Sunday, the Glee actor, 23, said he would be most starstruck by his "crush" Tina Fey.

"Talk about just hilarious, beautiful, smart, talented – just awesome," Criss told PEOPLE, praising the 30 Rock star. "If I met her, I would turn into a puddle."