Winners & Nominees
Awards Show Countdown
December
January
February
Latest Headlines
Credit:

Jason Merritt/Getty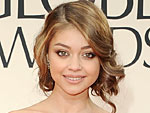 Originally posted 01/15/2012 08:05PM
Wardrobe malfunctions come with the territory when it comes to awards show, but lucky for Modern Family star Sarah Hyland, a close encounter with her gown didn't take a turn for the worst (or the worst-dressed list!).

Before the Golden Globes even began, the actress, 21, says the zipper on her dress broke.

"It just felt kind of like an explosion in my back," Hyland told E! host Giuliana Rancic on the pre-Golden Globes red carpet outside the Beverly Hilton Hotel. "And then I felt my dress start to slip, and I grabbed it before it was too late."
Credit: Victor Boyko/GC/Getty; Alex J. Berliner/ABimages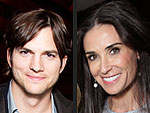 Originally posted 01/15/2012 07:25PM
Talk about an unexpected encounter.

Months after announcing their plans to divorce last November, Ashton Kutcher and Demi Moore found themselves just feet away from each other Friday at the CAA/Grey Goose Pre-Golden Globes bash at Soho House.

The actress, 49, arrived at the CAA Foundation bash before Kutcher, 33, and was spotted making conversation with Madonna and manager Jason Weinberg.

Kutcher made the rounds at the party, then, as he approached Moore's area, started chatting with Rumer Willis, her daughter, who was with the actress.
Credit: Weinstein; Bauer-Griffin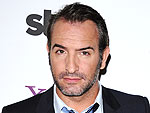 Originally posted 01/15/2012 02:00PM
Jean Dujardin likens his high recognition factor in his native France to living "in a big village," but with the accolades he's now receiving for his work in The Artist, the handsome actor had better get used to having fans in America.

"I am thrilled. I am proud. I am over the moon," Dujardin, speaking in French, told PEOPLE about his Golden Globe and Screen Actors Guild nominations for his role as a screen star in the silent, black-and-white pastiche about Hollywood's bumpy transition from silent movies to talkies.

"I'm incredibly surprised. And every day there are new awards, and it's so unbelievable."
Credit: Jemal Countess/Filmmagic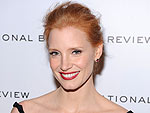 Originally posted 01/15/2012 12:00PM
With a year that included starring with Brad Pitt in Tree of Life, and earning a Golden Globe nod for The Help, Jessica Chastain – who was a relative unknown this time last year – is having the time of her life.


"It's such an exciting [time]," the actress, 30, told PEOPLE at the Palm Springs International Film Festival. "I'm having an out-of-body experience right now. It's really shocking and lovely."

But as of a week ago, she still hadn't found the all-important gown for one of her biggest walks down the red carpet.
Credit: Feature Photo Service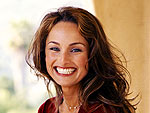 Originally posted 01/15/2012 08:30AM
Her most recent big-time event was about as huge as it gets – creating a killer menu for royalty in the form of Prince William and Kate during their visit to the U.S. last summer.

This week, celebrity chef Giada De Laurentiis will have another big night as she serves Hollywood royalty at InStyle's Viewing Dinner for the Golden Globes as well as the afterparty with Warner Bros.

Expected to nosh on her creations are Angelina Jolie, Natalie Portman, Charlize Theron, Michelle Williams and Kate Winslet.
Credit: Jorge Rios/IPHOTO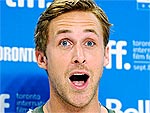 Originally posted 01/14/2012 10:00PM
The hunk parade of Bradley, Brad and George scheduled for Sunday night's Golden Globes show will be missing one hunk: Ryan Gosling.

Why? The uber-hot leading man – who also happens to be a double nominee, for the comedy Crazy, Stupid Love and the drama Ides of March – has a previous commitment.

His rep tells PEOPLE that "he's working out of the country."
Credit: Jordan Strauss/WireImage; Landov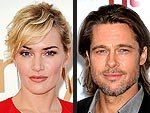 Originally posted 01/14/2012 06:00PM
An embarrassment of dishes: The nominees of this year's Golden Globes have three courses of deliciousity to feast upon, thanks to the Beverly Hilton's executive hotel chef, Suki Sugiura, and executive pastry chef Thomas Henzi.

The evening's culinary fireworks kick off with pistachio-crusted pistou ravioli with wild arugula, smoked tomato, kabocha compote and burrata cheese.
Credit: Marion Curtis/Startraks; Gilbert Flores/Celebrity Photo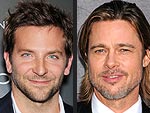 Originally posted 01/13/2012 09:20AM
Some at Sunday's Golden Globe Awards may be competing over more than just their acting chops.

The red carpet and the ceremony itself sould be sizzling, with Bradley Cooper, PEOPLE's 2011 Sexiest Man Alive, scheduled to present.

The hunk quotient will also be filled by previous winners of the honor, George Clooney and Brad Pitt, who are also competing in the best actor category.

Clooney, a multiple nominee for The Descendants (best actor) and The Ides of March (best director, best screenplay), is also a presenter.
Credit: Jeff Vespa/Getty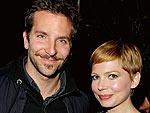 Originally posted 01/13/2012 06:00AM
With the Golden Globes just days away, Michelle Williams, Bradley Cooper and many other stars mingled at a Weinstein Company and Audi-hosted bash at West Hollywood's Chateau Marmont. The My Week with Marilyn star spent most of her night with pal Busy Philipps, and worked the party with a smile, staying until just before midnight. A casual Cooper (in a black leather jacket) showed up later and got chummy with Williams and the party's host, Harvey Weinstein. They captured the moment by snapping a photo together.

Also at the soiree: Lindsay Lohan, who was spotted greeting Jeremy Piven; Jane Lynch; and the cast of The Artist.
– Jennifer Garcia
Credit: Donato Sardella/Getty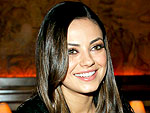 Originally posted 01/10/2012 05:15PM
Mila Kunis, who received a best supporting actress Golden Globe nomination last year for Black Swan, will be among the presenters at this year's ceremony.

Kunis, 28, joins A-listers including Jake Gyllenhaal, Nicole Kidman and former costar Natalie Portman in presenting at the 69th Golden Globe Awards at the Beverly Hilton in L.A. on Sunday.

The show, led by George Clooney and Ryan Gosling nominations, will air live on NBC at 5 p.m. PST/8 p.m. EST.
– Dahvi Shira