Winners & Nominees
Awards Show Countdown
December
January
February
Latest Headlines
Originally posted 01/16/2012 12:00PM
 

Kathleen Robertson couldn't be happier about her Boss's big news.

Robertson, 38, who plays Kelsey Grammer's personal aide on the Starz show, gushed to PEOPLE at Sunday's Golden Globes about Grammer, who won best actor for his role in Boss, and wife Kayte Walsh expecting twins.

"They're lovely and wonderful and madly in love, and they're going to be amazing parents," Robertson said. "It's great news."
Credit: Paul Drinkwater/ Getty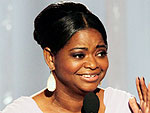 Originally posted 01/16/2012 10:20AM
Octavia Spencer delivered the most timely Golden Globes winner's speech on Sunday, honoring domestic workers by invoking Dr. Martin Luther King Jr. on the eve of the national holiday celebrating the civil rights leader's life and vision.

"With regard to domestics in this country, now and then, I think Dr. King said it best: 'All labor that uplifts humanity has dignity and importance.' And I thank you for recognizing that with our film," Spencer, 41, said in accepting the award for best supporting actress for her acclaimed performance as a maid in The Help.

Spencer, a native of Montgomery, Ala., later told CNN backstage that while the characters in The Help are fictional, "they represent scores of real people."
Originally posted 01/16/2012 09:45AM
Where was Ricky?

You can only shock the monkey so many times. If the monkey is an actor, it will learn to pretend to like it.

That seemed to happen with Ricky Gervais's disappointing return to the Golden Globes Sunday night on NBC. In last year's rude but delightful show, he insulted Robert Downey Jr., Johnny Depp and more with a kind of delirious, infantile happiness, like the world's smarmiest baby. This time, given all the hype, he might have been expected to go nuclear. But he was like a less reverent Billy Crystal.

If he had once been a fly in the ointment, this time the ointment rose up around the fly and neutralized it with a swallow.
Credit: Kevin Winter/Getty ; AKM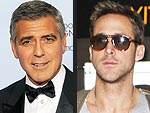 Originally posted 01/16/2012 09:30AM
So, where was Ryan Gosling on Sunday night? Oh, just trying to make ends meet.

That's according to The Descendents star George Clooney, who gave some hints backstage about the whereabouts of the most high-profile no-show at Sunday's Golden Globes.

He "is in Thailand or something," the best-actor winner, 50, said of his category rival, 31. "And you know what you do in Thailand."
Credit: Kevin Winter/Getty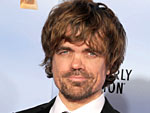 Originally posted 01/16/2012 09:00AM
Peter Dinklage was a winner at Sunday's Golden Globes, but he had other things on his mind while accepting.

After telling his fellow actors that he and wife Erica left their new daughter with a babysitter for the first time, the Game of Thrones star, 42, came backstage and told PEOPLE his nerves were calm about the situation – at least for the time being.

"Everything's fine – so far," Dinklage, 42, said, laughing. "She's a baby. Crying never killed anyone. Well, maybe that's not true."
Credit: Jason Merritt/Getty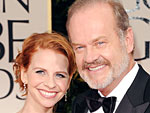 Update
Posted 01/16/2012 01:20AM
Originally posted 01/15/2012 09:20PM
Kelsey Grammer is about to be on double duty.

The Boss star seemed thrilled to gush about expectant wife Kayte Walsh, 32, and announce that they are having twins.

"I'm really looking forward to meeting these new arrivals," Grammer, 56, told reporters backstage at the Golden Globe Awards after his win.

"Fatherhood's always different, based upon the character that comes into your life. They arrive and tell you what you have to do."
Credit: Jeff Vespa/WireImage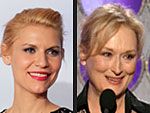 Originally posted 01/15/2012 11:20PM
Despite an off-color remark or two from host Ricky Gervais, Sunday's 69th annual Golden Globe Awards proved to be something unexpected – family friendly.

Named best actress for the TV drama Homeland, Claire Danes said that when she won her first Globe, for 1994's My So-Called Life, she was only 15 – and was so overwhelmed that she forgot to thank her parents.

She made up for that oversight on Sunday, and pointed out her mother, Carla, sitting in the International Ballroom of the Beverly Hilton Hotel. Danes also thanked her husband, Hugh Dancy, "who keeps me sane and happy."

Throughout the evening, many winners took time to remember members of their families. The Artist's best comedy actor, Jean Dujardin, thanked "my beautiful and talented wife." (The movie was also named best picture comedy or musical.)
Update
Posted 01/15/2012 10:55PM
Originally posted 01/15/2012 08:30PM
It took fewer than two minutes for Golden Globes host Ricky Gervais to zap his first target of the night.

The dubious distinction went to Kim Kardashian, about whom the silver-tongued host said, "The Golden Globes are to the Oscars what Kim Kardashian is to Kate Middleton … a bit louder, a bit trashier, a bit drunker and more easily bought, allegedly."

And so Sunday's 69th Golden Globe Awards were off and running.


Word of
his return
to the Beverly Hilton Hotel was
met with mixed reviews
(and perhaps a little fun-loving fear) from the people his sometimes-crass, sometimes-cruel humor offended and delighted last year.
Credit: Frazer Harrison/Getty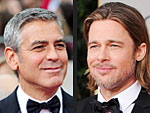 Update
Posted 01/15/2012 10:50PM
Originally posted 01/15/2012 09:40PM
An injured ACL is no laughing matter – but that didn't stop George Clooney from taking a friendly jab at his fellow Golden Globe Awards nominee – who's also a fellow two-time PEOPLE Sexiest Man Alive honoree – Brad Pitt.

While introducing a clip from Pitt's film Moneyball (the pals decided to introduce each other's films at Sunday night's ceremony, live from the Beverly Hilton Hotel), Clooney borrowed the actor's cane, which he is using as he recovers from the slip that injured the ligament in his knee.

"I have to give it back to him," Clooney, 50, who walked the red carpet with girlfriend Stacy Keibler, joked while using the black cane in jest. "He can't make it to the bar otherwise."
Originally posted 01/15/2012 10:15PM
It took a lot of time – and a few extra pounds – for Michelle Williams to make her on-screen transformation into Marilyn Monroe.

But Williams, 31, says she wasn't the only one immersed in the world of the iconic actress during the production of My Week with Marilyn – especially around nighttime.

While accepting best-performance honors for her role in the movie at Sunday night's Golden Globe Awards (live from the Beverly Hilton Hotel), Williams singled out her daughter from her relationship with Heath Ledger, 6-year-old Matilda Rose, whom she praised for "suffering through six months of bedtime stories, where all the princesses were read aloud in a Marilyn Monroe-[sounding] voice."