Credit:

Frazer Harrison/Getty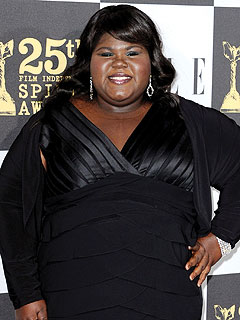 Independent Spirit Awards 2010
Originally posted 03/06/2010 01:30AM
Who knew how far $2 could go? Gabourey Sidibe's mom, who used to pay her daughter that amount each day to attend school, does now.

"I saved up my money for a week so I could see Welcome to the Dollhouse," Sidibe, the Independent Spirit Awards' best female lead winner, said in her beaming acceptance speech Friday night. She excitedly explained that it was the first film that made her think: "I could do that." A notion that gave birth to her own independent spirit and an Oscar-nominated performance in her first film, Precious.

Her costar Mo'Nique credited their "low-budget, independent film's" leaders for teaching her how to bring her A-game and score yet another trophy this awards season for best supporting female.

But it wasn't all about the best feature film of the year, Precious: Based on the Novel 'Push' by Sapphire. Crazy Heart star Jeff Bridges continued his winning streak for best male lead, exclaiming to his wife that his Spirit award trophy would "really tie the room together!" He explained to PEOPLE after that it was his "little nod to The Dude."
Credit: GF/Bauer-Griffin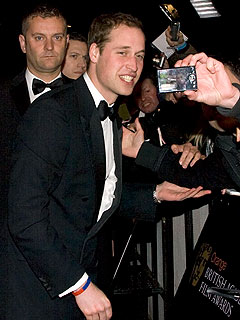 Originally posted 02/21/2010 07:45PM
It was a night to remember for Twi-hards and royal fans at the Orange British Academy Awards in London, as Prince William was announced BAFTA's new President and Kristen Stewart won the "Orange Rising Star" award with Robert Pattinson in the audience.

While Twilight's hot couple arrived separately on the red carpet, both to loud cheers, it was Prince William signing autographs that caused the biggest frenzy on the way in to the star-studded ceremony at the Royal Opera House in Covent Garden.

The young royal attended solo – minus girlfriend Kate Middleton – opened the ceremony with a heartfelt speech on his new BAFTA appointment. "This is such a privilege for me," he said adding, "I have to say, there is nothing better than going to see a really good film so this is a great personal thrill for me."

Prince William follows in the footsteps of his grandfather in accepting the high-profile arts role.
Credit: Michael Muller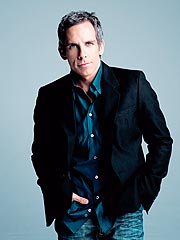 Originally posted 02/19/2010 07:00AM
Ben Stiller, Olivia Wilde and this year's first-time Downloading Nancy nominee Maria Bello will be among those presenting Film Independent Spirit Awards at the March 5 ceremony, PEOPLE has learned exclusively.

Other presenters announced Friday are Emile Hirsch, former nominee Marisa Tomei and two-time winner (for Drugstore Cowboy and Crash) Matt Dillon.

With Precious and The Last Station leading the nominations, this year's event – to be hosted by comedian Eddie Izzard from the LA Live event deck in downtown Los Angeles – marks the 25th anniversary of the Independent Spirit Awards, which recognizes achievement in indie movies.

The Film Independent Spirit Awards will air live and uncut on Friday, March 5, at 8 p.m. PT/11 p.m. ET on the Independent Film Channel (IFC). The Oscars will air two days later on ABC.
– Jessica Wedemeyer
Credit: Twentieth Century FOX; Warner Bros.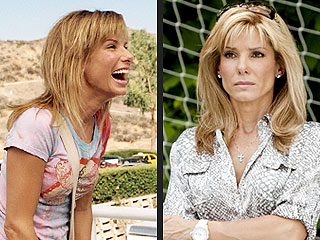 Originally posted 02/02/2010 09:00AM
Win some, lose some – just ask Sandra Bullock.

Awakening Tuesday morning to the news that she'd been nominated for the Best Actress Oscar for the uplifting drama The Blind Side, the leading lady had only the day before received a nod from the Golden Raspberry Foundation in the race for the Razzies – as 2009's worst actress, for the limp summer comedy All About Steve.

Should Bullock "win" both the Razzie and the Oscar, she'll claim the dubious distinction of being the first star ever to pull off the double-barreled win in the same year. (Others have done so in non-acting categories.)
Credit: Jemal Countess/Getty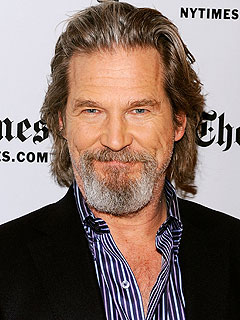 Originally posted 01/16/2010 10:20AM
To get into character as hard-living country legend Bad Blake in Crazy Heart, Jeff Bridges brushed up on his skills as a musician – and consumed more than his fair share of junk food.

"Normally I watch what I eat. I feel better when I'm in shape and not too overweight," the star told PEOPLE at Sunday's New York Times Arts & Leisure Weekend. "When you're playing a part like [this] ... If you feel like a pint of Häagen-Dazs, you hammer the Häagen-Dazs."

Turning to food to get into character is nothing new for the celebrated actor. "It's something I always do," Bridges, 60, , who nabbed a Critics' Choice Award Friday, explained. "You think of the physicality of the character and what kind of food you need to help create the physical shape you're looking for."

Doppelganger Kris Kristofferson, whose looks and legend Bridges channeled for the role enjoyed the actor's look-alike performance and joked about sharing screen time in the future.

"We saw the movie together and Kris laughed at how much I reminded him of him," said Bridges. "We looked in the mirror and said, 'We gotta play brothers, man! We had a good laugh.' "
Credit: Vince Bucci/PictureGroup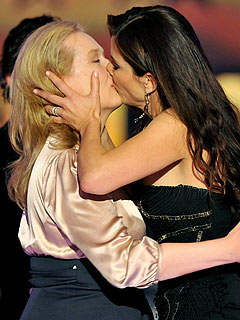 Originally posted 01/16/2010 12:00AM
Pop the champagne and raise a glass! It may have just been the first big awards show of the year, but Sandra Bullock and Meryl Streep shared a win – and a kiss – at the 15th Annual Critics' Choice Movie Awards in Hollywood, making for an entertaining night.

"This is bulls---," Bullock said jokingly Friday before lip-locking with Streep, whom she shared best actress honors with (she for the Blind Side and Streep for Julie and Julia). The tie was an obvious surprise, but as the audience cheered, Bullock exclaimed: "This is an honor."

Later in Bullock's acceptance speech, she referred to similar parallels between her and her co-winner, saying that she loves "food and sex like Meryl. ... That's how similar we are. You guys just didn't notice it until now." Bullock ended her speech by admitting, "Meryl is a good kisser."

Presented by the Broadcast Film Critics Association, the Critics' Choice is considered an accurate prediction of Oscar winners. The Hurt Locker emerged as the big winner of the night taking home two top awards (best picture of the year and best director). Director Kathryn Bigelow's win made her the first female ever to take best director honors at this awards ceremony – something that would too make history at the Academy Awards. She received a standing ovation from ex-husband and fellow nominee, Avatar's James Cameron.
Credit: Michael Germana/SSI Photo/Landov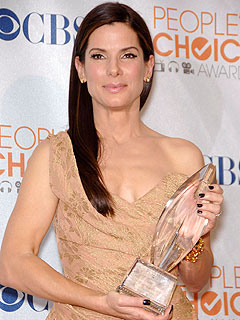 Originally posted 01/07/2010 01:00PM
Awards season has just begun and Sandra Bullock, who's sure to be a red-carpet fixture thanks to a record-breaking year, is already looking forward to some downtime.

The star of The Blind Side had a winning night at the People's Choice Awards Wednesday, picking up trophies for favorite actress and for The Proposal, her movie with Ryan Reynolds which was named favorite comedy.

Despite the accolades, Bullock, 45, is ready for a break from moviemaking. "I don't want to open anything and read anything right now," she says. "I'm enjoying too many other things in my life. Once you get a project, it's a lot of time out of your life. I don't want to leave home right now."
Credit: Chris Pizzello/AP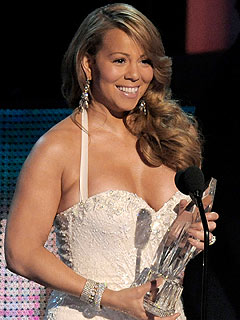 Originally posted 01/07/2010 10:40AM
Mariah Carey's spacey acceptance speech at the Palm Springs International Film Festival on Tuesday night has been buzzing around the Internet. And yes, Carey was indeed buzzed – on bubbly – when she gave it, she says.

The singer-turned-actress, who earned the breakthrough actress award for her social worker role in Precious: Based on the Novel 'Push' by Sapphire, says she was having "splashes of champagne" with Lee Daniels, close friend and Precious director, prior to taking the stage.

"We'd been sitting there, celebrating this whole time and having little splashes, and I hadn't eaten," the diva says, adding they didn't want to be late and rushed in to the event.
Credit: Steve Granitz/WireImage, Kevin Mazur/WireImage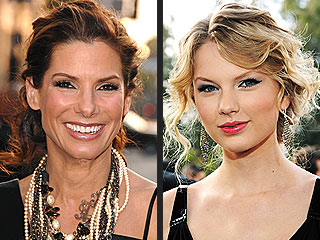 Originally posted 01/06/2010 11:00PM
The people have spoken – and they love Sandra Bullock!

The Blind Side star beat out stiff competition, including Jennifer Aniston and Kristen Stewart, to be named favorite movie actress at the 36th Annual People's Choice Awards, televised live from L.A.'s Nokia Theatre Wednesday.

No stranger to the ceremony – this marks the star's fifth win for favorite movie actress since her first nomination in 1996 – Bullock, 45, was a double winner Wednesday night: Her film The Proposal, costarring Ryan Reynolds, was named favorite comedy.

"I am only up here because I am fortunate to work with people who make me look good," a tearful Bullock said while accepting her award. "[Thanks] most of all to my family . . . Life is hard sometimes, but we get through with laughter."

The actress also acknowledged her fans. "Thank you to everyone who voted," she said, "because you're voting for all the people who make me look good – and you're making me look very good."

Otherwise, it was
Twilight
-mania at the Nokia Theatre, where voters didn't forget about the blockbuster. The teen vampire flick swept the award show, claiming four trophies in total, including favorite movie, favorite on-screen team (an award given out to the entire cast) and favorite franchise. Meanwhile,
Taylor Lautner
was awarded favorite breakout actor as the series' sexy werewolf, Jacob Black.
Originally posted 01/06/2010 02:15PM
While
Mariah Carey
never quite managed to finish her sentence that began, "Please forgive me because I am a little bit … ," others who witnessed her rambling, seven-minute acceptance speech Tuesday night at California's Palm Springs International Film Festival offered plenty of suggestions.
Jet-lagged? Inebriated?
Maybe just nervous. Festival organizers claimed that the Grammy winning diva, whose glammed-down performance as a social worker in
Precious
won her Palm Springs's breakthrough performance award, was slightly spaced-out because she was not used to speaking in front of such eminent peers as Sean Penn, Morgan Freeman, Jeff Bridges, Clint Eastwood and Dame Helen Mirren.
Yet Carey – who attended the gala event without husband Nick Cannon – was happy to be part of the film community. "I have always wanted to be doing independent films, but people were always like, 'You will take us out of the movie [by overshadowing her character],' " Carey, 40, told PEOPLE.
Advertisement
Special Galleries