Winners & Nominees
Awards Show Countdown
December
January
February
Grammy Awards News
Credit:

Jason Merritt/Getty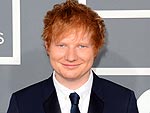 Originally posted 02/12/2013 03:50PM
Elton John doesn't perform with just anyone. So when he took the stage at Sunday night's Grammys with folkie Brit Ed Sheeran to duet on the newcomer's Grammy nominated hit "The A Team," it was a moment to remember.

Here are five things to know about the 21-year-old folk singer, whose debut, +, has sold over two million copies worldwide.
Credit: Kevork Djansezian/Getty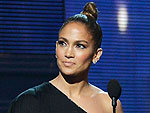 Originally posted 02/12/2013 10:45AM
Adele could have done without one particular well-wisher at Sunday's Grammy Awards – a Ukrainian TV presenter who crashed the stage during her win and was later jailed for trespassing.

Vitalii Sediuk spent the night behind bars and faces a court date in March after somehow evading security and entering the Staples Center without a ticket or any credentials, according to the Hollywood Reporter.

When Adele, 24, won best pop solo performance for "Set Fire to the Rain," Sediuk appeared on stage and could be heard saying, "I love you, Adele," before presenter Jennifer Lopez gave him a stern look and gestured him offstage.
Credit: Todd Williamson/Invision/AP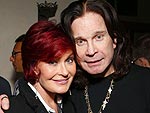 Originally posted 02/12/2013 06:00AM
It was grandparents' night out for Sharon and Ozzy Osbourne on Sunday.

The couple – who are otherwise known as "Nana and Grandad" to grandchild Pearl Clementine – enjoyed date night at Universal Music Group's official Grammy viewing party at the home of chairman and CEO Lucian Grainge.

Sharon, in black slacks, a silver gray, white collared shirt and a black coat with leopard detailing on the collar accompanied Ozzy – who wore his signature all black and a chain of gold crosses around his neck. The two enjoyed dinner from the buffet that included a sushi bar, prime rib, seafood paella and decadent macaroni and cheese.

Holding hands as they navigated their way through the party, Sharon and Ozzy caught up with old friends like Rick Rubin, Robbie Williams and Ayda Field.

The rocker couple were glued to the screen when Jay-Z and Justin Timberlake performed "Suit & Tie." With his arm around his wife of 30 years, Ozzy and Sharon appeared to be enjoying a romantic moment.
– Raha Lewis
Credit: Larry Busacca/WireImage; Inset: Jon Kopaloff/FilmMagic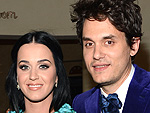 Originally posted 02/11/2013 05:00PM
Katy Perry and her Grammy Awards date, Girls star Allison Williams, made it a couples' affair at the Warner Music Group after-party.

Perry reunited with beau John Mayer while Williams reconnected with boyfriend Ricky Van Veen as the group later huddled with Selena Gomez, who arrived around 1 a.m., and Lana Del Rey for early morning drinks at West Hollywood's Chateau Marmont Hotel.
Originally posted 02/11/2013 03:00PM
The songs! The surprises! The … shoes?

The Grammys had their fair-share of well-heeled celebrities – and PEOPLE was on the red carpet with our very own shoe cam! Check out PEOPLE's Vines from the red carpet – and see which celebrities definitely put their best foot forward.
Originally posted 02/11/2013 10:50AM
The Grammys are called music's biggest night for a reason.

With performances from Justin Timberlake, Carrie Underwood, Kelly Clarkson, Jack White, Frank Ocean, Miranda Lambert and more, the audience rocked their way through the 3.5 hour broadcast.

But no one was having more fun than Swift, 23, who was seen singing along and dancing to almost every song played throughout the night. But the singer-songwriter had plenty of reason to celebrate – earlier that day, she learned she won a Grammy for her song with The Civil Wars, "Safe & Sound," which appeared on The Hunger Games soundtrack.
Credit: Cindy Ord/Getty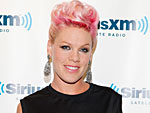 Originally posted 02/11/2013 08:00AM
Grammys, schammys!

Even though she was nominated for best pop vocal album, Pink was absent from the awards show on Sunday.

Instead, the 33-year-old singer spent the evening on Twitter, sharing her musings about the broadcast – and her busy day.

"I'm sorry honey @hartluck but every time Johnny Depp speaks with that low voice, I can't find my clothes. Oops there they are. #brrrrr," she Tweeted to her husband Carey Hart when the actor introduced Mumford & Sons.
Originally posted 02/11/2013 01:15AM


It's the only awards show that's as much a concert as it is a parade of stars. So, who brought the goods Sunday night at the Grammys?

There were plenty of memorable moments, both solo performances and the duets and collaborations for which the Grammys are so famous.

Justin Timberlake made his much-anticipated – and, it turned out, sepia-toned – return to the Grammys, with help from Jay-Z, singing "Suit & Tie" and "Pusher Love Girl." That came soon after Taylor Swift opened the show with a flamboyant Alice in Wonderland take on her hit "We Are Never Ever Getting Back Together."
Originally posted 02/10/2013 10:00PM


Kelly Clarkson took home best pop vocal album – and possibly best acceptance speech of the night at Sunday's Grammy Awards.

Clarkson, 30, made her way to the stage, explaining why it took her so long to get up there.

"So sorry, I got stuck to Miranda Lambert ... there's a story and a song, for later ... after alcohol, I'm just kidding, children," she said with a laugh.

Despite admitting, "I get nervous speaking in front of people," Clarkson was charming at the podium, holding her Grammy for Stronger.