Nerves were never going to be a problem for Seth Meyers.
The late-night funnyman has spent years delivering topical jokes into a camera, so by the time
Monday night's Emmy Awards
rolled around, Meyers approached his monologue like an old pro. (He even brought back his
SNL
smirk!)
See the best jokes from Meyers's monologue, below.
7. On the poor odds for survival for actors on
Game of Thrones
: "If you're an actor on
Game of Thrones
, I imagine you wait for next week's script the way most people wait for biopsy results."
6. On the controversy over
Orange Is the New Black
being nominated in the comedy categories: "We had comedies that made you laugh, and comedies that made you cry because they were dramas submitted as comedies."
5. To all the screenwriters in attendance: "I'd like to take a moment to congratulate all the writers in the room tonight, but their seats are too far away to hear me."
4. On why he loves TV: "She doesn't play hard to get. She doesn't demand your full attention. She's the booty-call friend of entertainment. You don't need to text 'You up?' – TV is always up!"
3. On the
MTV VMAs
, held one night prior: "MTV held the VMAs even though they no longer show music videos. That's like a broadcast network holding an awards show, and giving all the awards to cable and Netflix."
2. On why more shows should kill off their characters early and often: "Otherwise, before you know it, you're stuck paying Sheldon a
million dollars an episode
."
1. On the popularity of various shows online: "The most DVR'd show of the past season was
The Blacklist
.
Game of Thrones
was the most pirated. And
Duck Dynasty
was the most VCR-taped."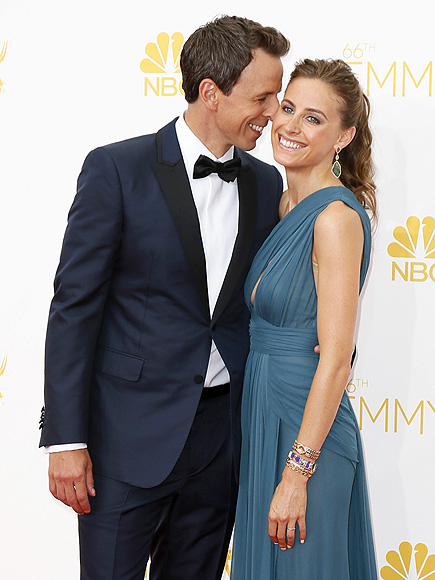 Danny Moloshok / Invision / AP
See the Best Emmys Red Carpet Looks